Martin Brown of BriMarc kindly sent me, on loan, the recently introduced Veritas Beading Tool to have a play with. Here are my impressions.
This is the tool as supplied
It comes with one single-point cutter and 5 blank cutters which the user can shape. As these can be shaped both ends, there are potentially 12 cutters as standard. Additional beading, fluting and reeding cutters are available as extras.
These are the component parts of the tool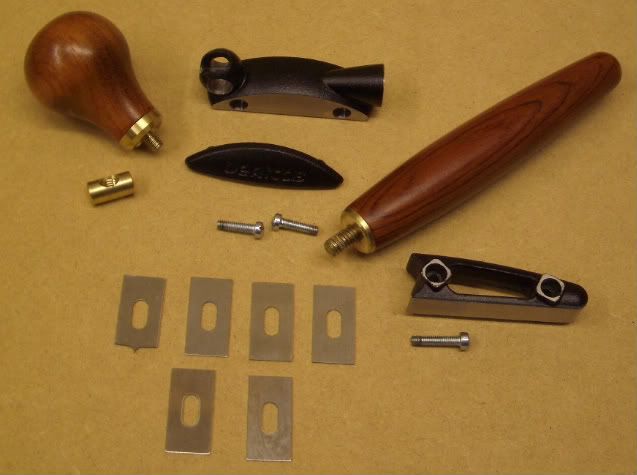 As with all Veritas tools, it is very well made and finished. The handles are Bubinga - the knob-shaped one pivots from horizontal to vertical.
The fence is innovative in that it can be secured in three positions - for straight, curved or bullnose work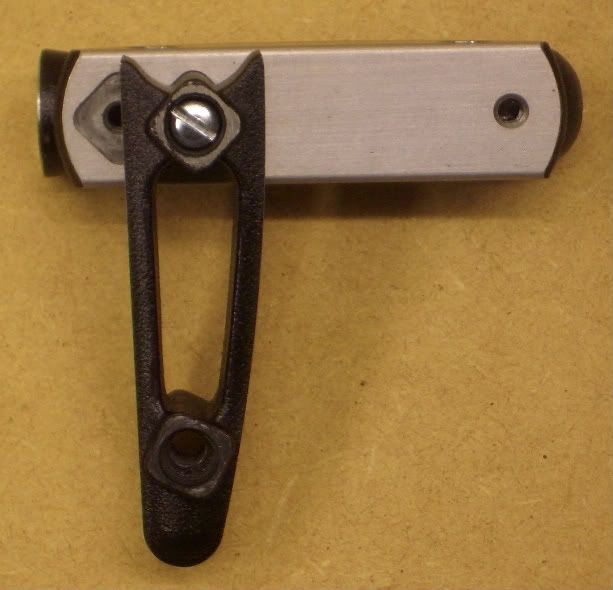 Then there are two options for each position by flipping the fence over, depending on whether you want to work right or left-handed.
The blade is secured by a clamp and can be slid along the length of the sole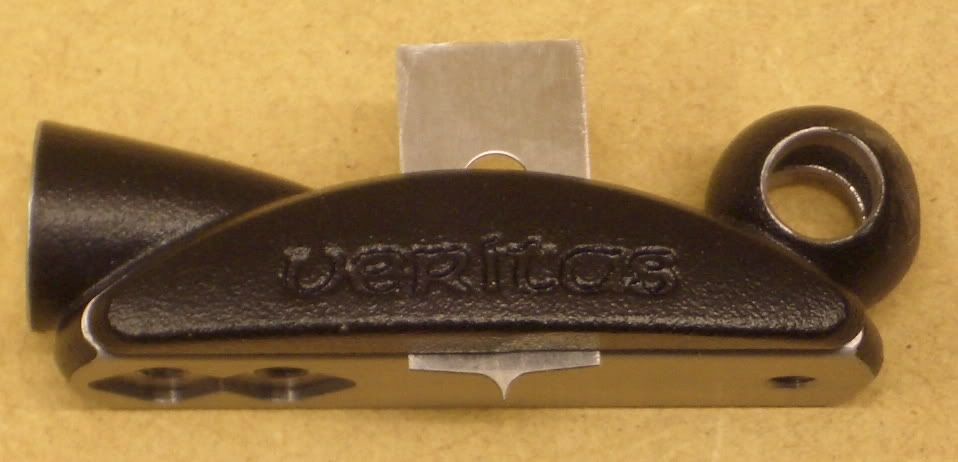 Beading tools (or scratchstocks as they are sometimes known) come in a variety of shapes, sizes and designs and many are shop-made. Here's a very basic one made from plywood
And here's one, made from brass, which Pete (Newt) very kindly made for me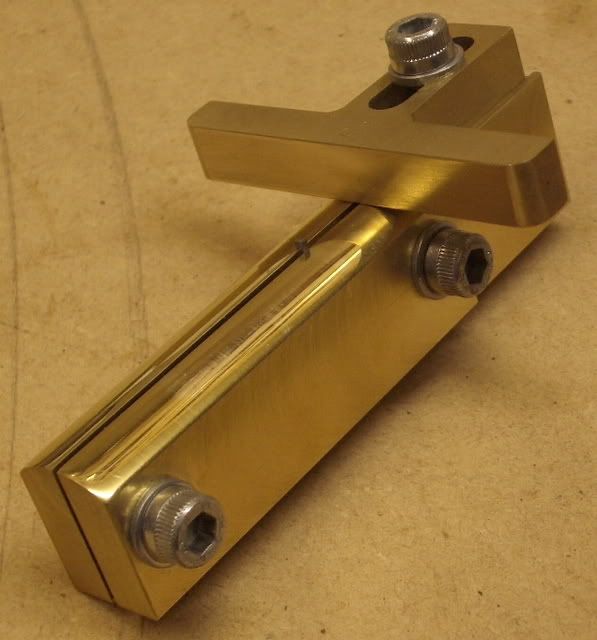 So I think it's fair to say that there isn't a "standard" style of beading tool. When I first saw the Veritas, I thought it looked a bit odd because of the handles but in use I found it very comfortable. I found this the best way to hold it
Two thumbs behind the cutter and one finger pressing against the fence.
The comprehensive instruction sheet gave no information about direction of cut, but a one page leaflet packed with the tool said that it should be used on the pull stroke rather than the push stroke. However, I instinctitively wanted to push it and found that it worked perfectly well that way. The only difficulty I found was with the fence which projects only one side of the body, which results in little contact with the workpiece at the end of the stroke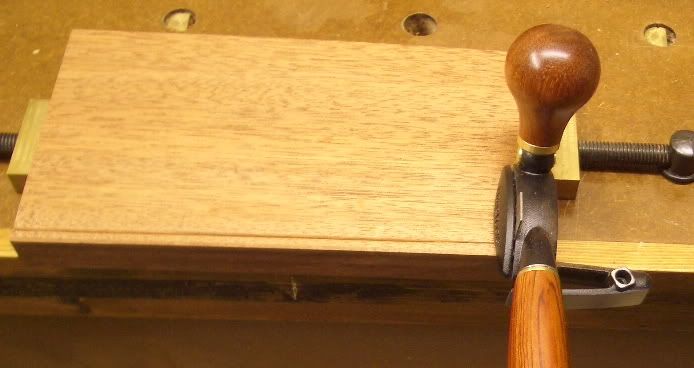 I did a comparison with my brass scratchstock where the fence projects both sides of the sole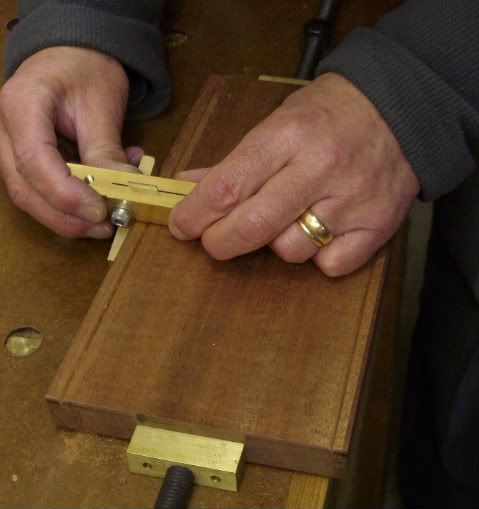 I found this better. However, with a little care, both produced identical results, so it's not a big problem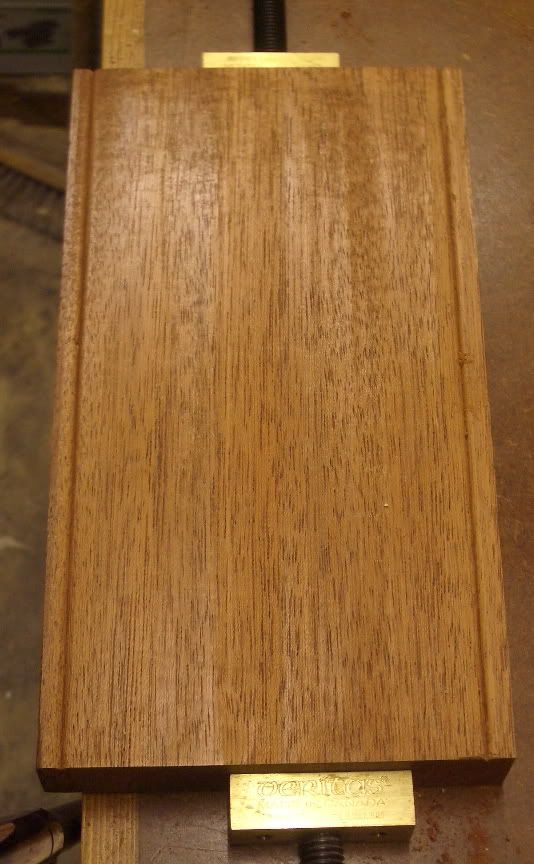 I had a piece of oak left over from a 3' diameter table-top which I'd cut out, so tried the curved fence on this. Although it was fairly coarse wood and not ideal for beading, the curved fence worked well and the tool cut nicely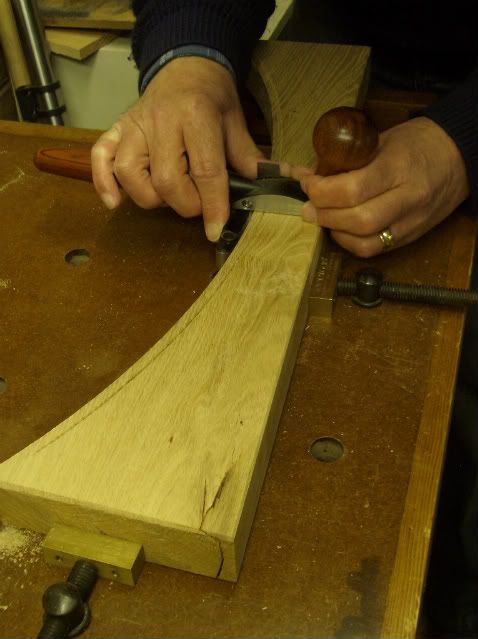 Overall, I'd rate this as a very nice tool which works well. The most innovative part of it is the fence which will enable you to use the tool on virtually any type of beading work. However, I just wish it projected both sides of the sole.
Cheers
Paul