I bought a Record 148 dowelling jig back in about 1971. Like most people who own one, I reckon it's the best dowelling jig ever made. I don't use it much since getting a biscuit jointer but still find it very useful for various jobs.
Recently I had to drill some dowel holes to temporarily fit four legs to a table top so that I could take measurements for the side rails. The holes needed to be very accurate so I wanted to use my jig. Because the table top was 3' in diameter and the legs were 3" square, with the ends cut at an angle, I decided to fit two bush carriers to the 12" rods to drill the ends of the legs like this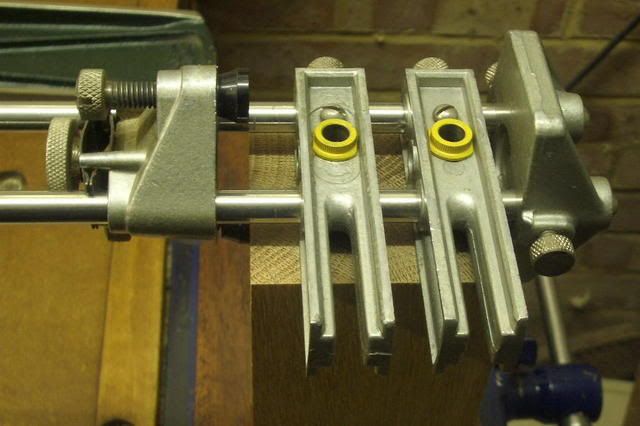 And fit two bush carriers to the 3' rods to drill the table top like this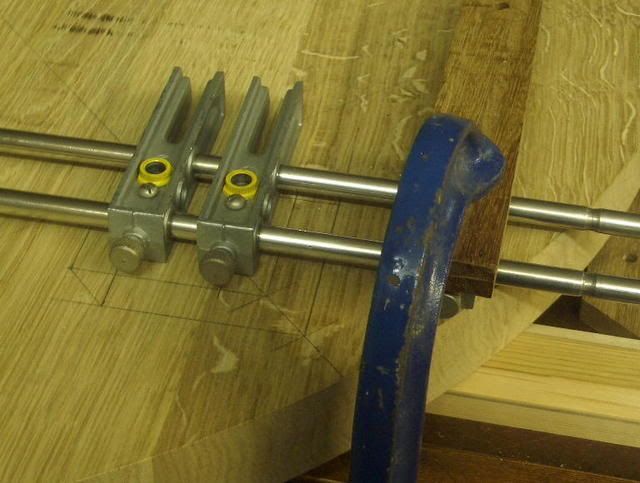 Clamped it to the table top with G cramps each end and a block of wood over two spare bush carriers.
In order to ensure that the bush carriers were the same distance apart on both sets of rods, I used a Veritas set-up block between the carriers when fitting them.
The holes were spot on
Don't think I could have done that with most dowelling jigs.
Cheers
Paul
PS The Record 148 is, sadly, no longer made but you can sometimes pick them up second-hand. 3' rods were not a standard item but Record made them up for me as a special order in the days when they were more customer-focused