Taking advantage of the week off I set about replacing the long suffering but very effective sheet of shuttering ply which has served us so well as a front door in recent years. As noted on the Christmas thread I cut the rough stock to size on Christmas morning and set about making as soon as possible after the festivities.
Just to prove I don't always shoot from the hip I thought it might be an idea to do a dimensioned sketch as Euro sections can get a bit complicated.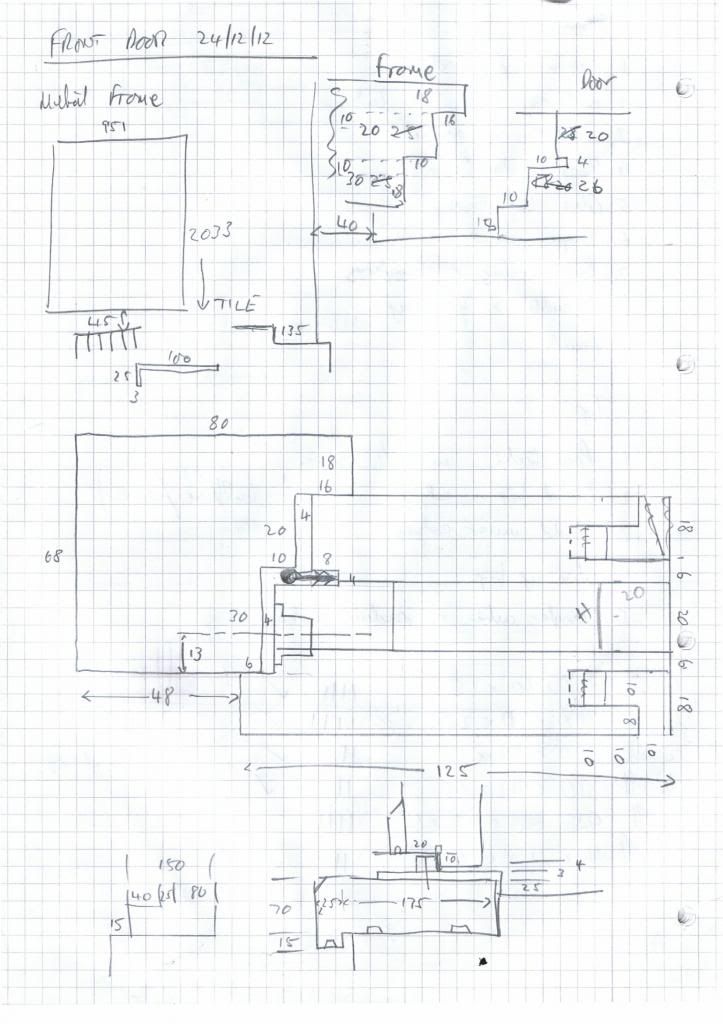 I increased the size of the rebate for the lock as this is often tight and leaves fragile edges tot eh mortices. The stiles are 115 x 68, increased from 100mm to try and end up without a finger trap behind the handle as several of us have found recently. I altered the front and back ship-lap boards to 20mm to leave strong rebates as the door is exposed to extremes of weather.
This was the first "big" job on the Felder Eco 731 and you can certainly spot the Eco bit with 3 rather than 4HP motors. Nevertheless is ripped the 75mm stock OK with a sharp blade and the spindle was fine even with the Omas wobble saw. The thicknesser was a different matter and I could only take 1mm cuts of 200mm boards without stalling the knives. Felder thoughtfully provide a reversing switch for when this happens so you can wind yourself back and have another go! Having said that DF or Columbian Pine can be tough stuff.
Having machined all the stock to size I cut the boards to length and tenoned the ends using the newly purchased and eye wateringly expensive tenoning clamp. It's very nice and B well ought to be.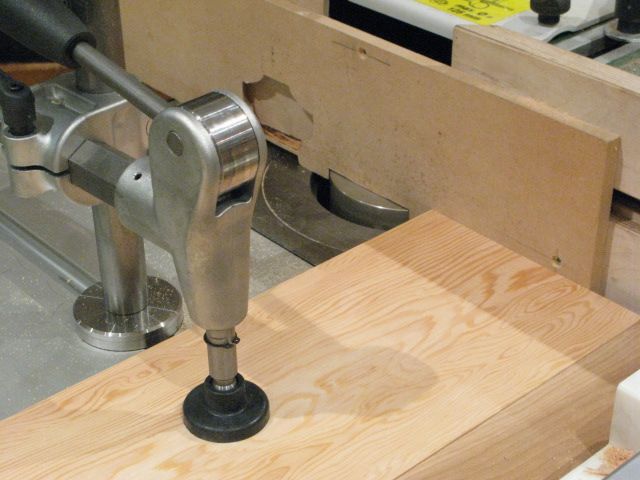 Whilst the spindle was set up I rebated top and bottom edges square with a generous 15mm rebate to allow for movement.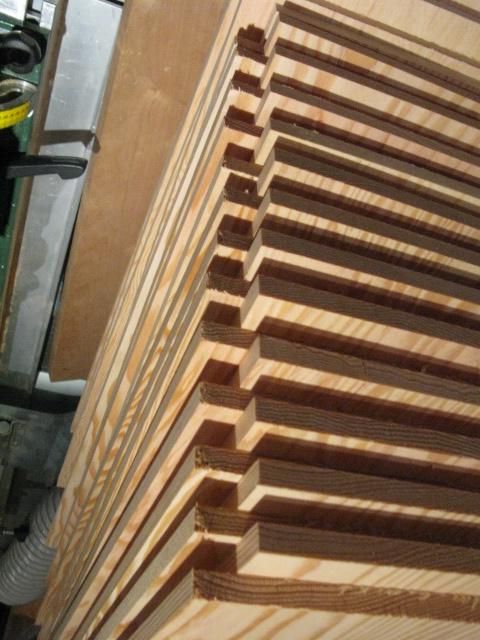 I was keen to test the wobble saw and machined the grooves for the board ends in the stiles at 10 x 11mm deep. There was a little breakout at the edge of one board but it was my fault as my zero clearance fence was not quite zero after I'd faffed about with positioning.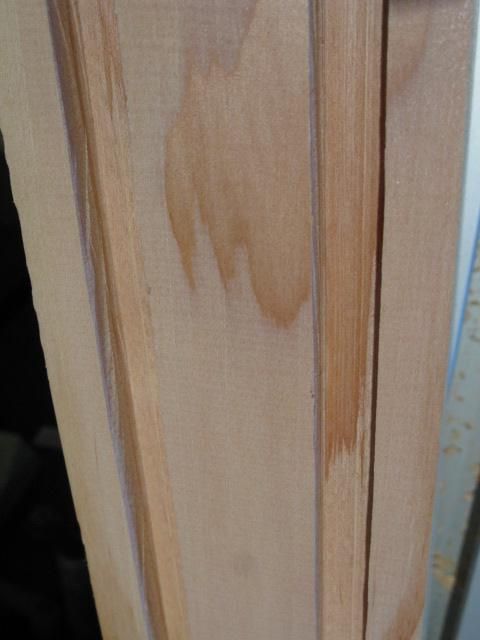 I sorted the boards by weight keeping the heavy pieces with high resin content for the outside and the light stuff for the interior.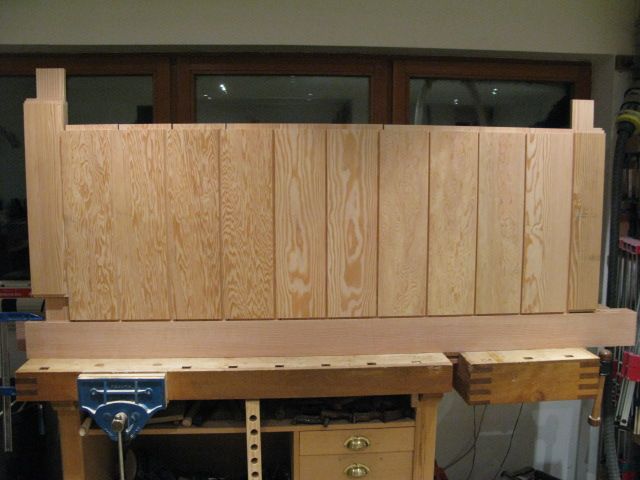 It was actually at this point that I decided to go ship lap as I thought it would give better drainage and a nicer appearance
I had a new 15mm rad knife from the Finn Juhl table so used that quite effectively.
I'd been thinking about the considerable weight of this door and it only has a single top and bottom rail with 80 x 20 haunched tenons plus stub tenons filling the board grooves and decided to house in a diagonal brace. This was a chance for a bit of hand work and I like to use these WIPs to comment on hand tools in use.
The central space in the door was 25mm to allow for insulation and I used a 25mm brace with 20mm housed tenons each end at 45 deg. (Is there a name for this joint?). I marked it out then cut sloping guide wedges to the two angles and double sided them to the stile. I cut out the bulk of the waste with the new Narex mortice chisels which, to be fair to our heavenly friend are actually very good and hold a keen edge. I then pared down both sides with paring chisels. The steep side was nor problem although the coarse grain makes it more difficult that normal. Much as I hate to say it by far the best chisel was a Jap laminated which sliced through in a vcery controllable manner and did not flex. The shallow side was a different issue and I used my Peter Sewfton purchased Sorby 10mm parer. This has a long thin dovetail blade and did not work well as the blade flexed leaving a curved base which I had to finish without the guide. I think parers do need to be stiff as, by definition you will be working a long way from the edge.
The strut was marked out and the shoulders were pretty fine at 2.5mm each side. some might think it overkill but it only took a couple of minutes to plane back to a guide using a skew block and rebate respectively for the left and right faces. I have mentioned this before but, being right handed, I find the combination of RH skew rebate and LH skew block to be idea for lots of jobs including (obviously) rebates both ways, cleaning tenon faces, chamfering end grain without break out etc etc. I use a2 in the rebate at 35deg and A1 in the block at 30 deg.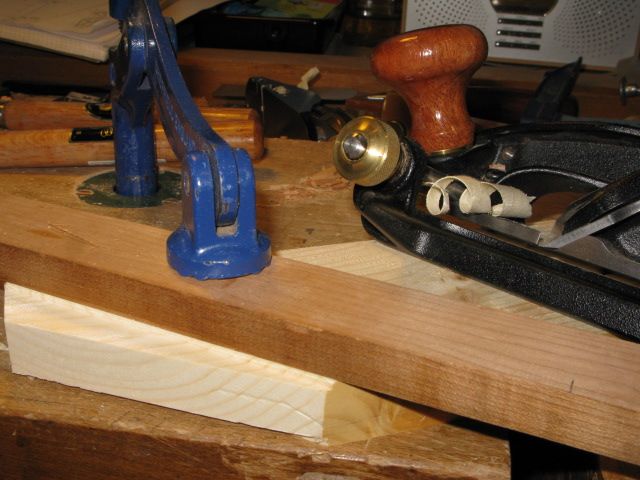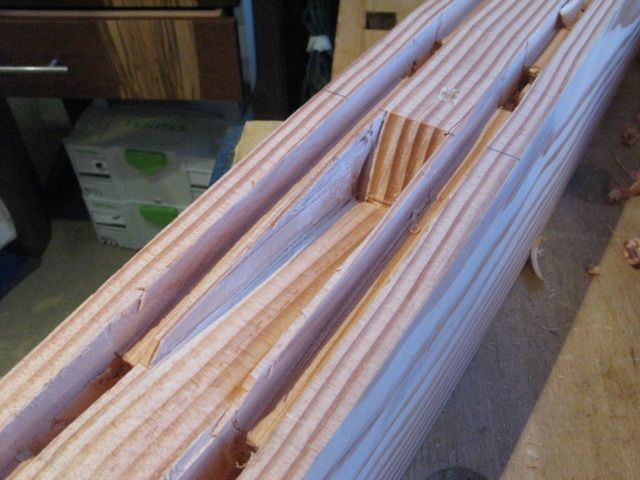 Haunched and stub tenons were finished off ready for assembly. Although it created a lot of extra work cut a 30mm x 10mm tenon on the end of each board and a corresponding mortice in the centre of each position to keep the board gaps even when during seasonal movement. I think I could have found a quicker way to do this maybe using dominos.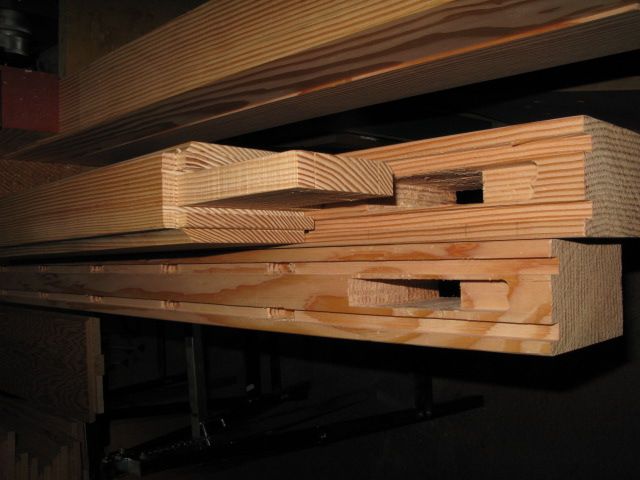 There are a total of 52 M & T's to glue up which is a bit of a nightmare on your own so I decided to glue up one side of the top and bottom rails first, along with the diagonal brace. Once this had gone off I glued all the lower mortices for the boards and knocked them in along with the insulation. This was meant to be all PU but Wickes only had Polystyrene in 25mm so I had to make do with that. I doubt if fire will attack us from the outside!
Finally it was Sh*t or Bust time and I glued it up and went for it. I did have to reach for the lump hammer at one point but it eventually went down (what a great feeling) and I wedged it up with hardwood wedges. I used the dire Rutlands clamps which of course slide up and down perfectly until you had wet glue on hand at which point they jammed solid. Another call for the lump hammer.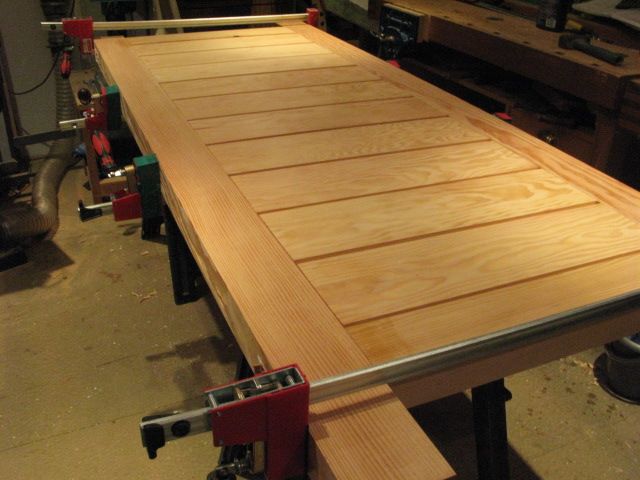 All ready for cleaning up on New Years Day. Have a good one guys.